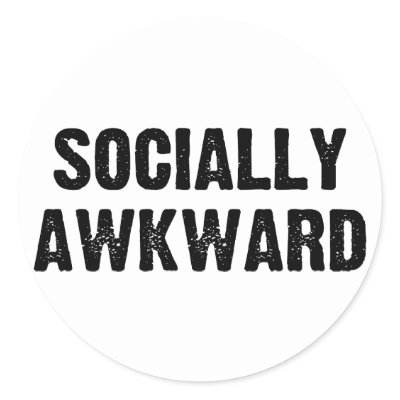 We speak social anxiety here, the both of us. Yes, Nathan has difficulty with social situations, it comes with the territory. You may not know that I struggle with it, too. People are surprised when I tell them that I am socially anxious. They'll say, "But you're so friendly, you're so animated." That is true, but it's taken me many years of practice to get to that point. I still go to a party and my stomach is brimming with battery acid. I've been going to therapy, where this is being discussed and dissected. It's very hard work. I cry. A LOT. Staying objective about feelings, keeping to the truth instead of hiding in the "safety" of denial makes me exhausted and drained.

This has given me a better and clearer perspective when Nathan goes to therapy. Nathan doesn't like talking about himself, what happens during his day. I've always felt that it's just because he feels he'll get in trouble if he tells the truth. Now I think that it's painful to talk about being him. I think he looks at himself as a burden, that he frustrates me. And honestly, there are times that he does frustrate me, as all children are genetically engineered to do. He is never a burden to me. He never has been. Our work in therapy is to have him become more social and focus on making connections with others.
Nate was invited to a birthday party on Saturday. His first one. He had never been to a friend birthday party. I was overwhelmed with excitement, as this was a great opportunity for him. I didn't want to bombard him with my projected anxiety, as I wanted him to go and to succeed. Mostly I wanted him to have fun. It was a karate birthday, which was a double bonus. He likes karate and the party was at a studio where he used to take lessons.
Part of my work in therapy is that I need to teach by example. In regards to social situations, Nathan doesn't see me being social often enough. He has no point of reference, so for him, being social and making friends isn't something that you do. So, why should I be surprised that Nathan is happy to stay at home and not engage others? I was, and now I'm not. I do have a tendency to keep close to home. I know I am weird and I don't talk to people as much live and in person. Social media makes it easy to stay in "touch" but not in the sense where it's good for you and your soul. It's something I'm working on.
So, I found it a little strange when the party was a "drop off". I was put off guard when I heard that. I was expecting and was very happy to stay. I wanted to meet parents and talk with them. I desired to make connections with folks so that I could be more friendly and that Nathan would have that many more kids to play with. Seems I was the only one, as most parents who dropped their kids off were MORE than happy to leave their offspring for a few hours. I was a little sad. This perfect opportunity to show Nathan more skills and mostly, yes, to see Mom using her friend fu was now dashed.
I was concerned, too, that Nathan may have a meltdown. I am usually there to keep an eye, to give our special handsignals to guide him through sticky social terrain. What if kids made fun of him? What if I wasn't there to comfort him? I stopped my internal typhoon for a moment and saw him playing with his friends. He was having fun. And he was FINE. I was STILL so nervous, but I knew I had to have faith and trust in Nathan's abilities. I made a compromise with my paranoid self. I left my phone number, just in case, and I went home. I made a turkey sandwich with extra spicy mustard and enjoyed it while watching the Cooking Channel. Once I was done, I went to check on Nathan. He was sitting quietly with a group of girls. There were three boys, who were like hyenas on crack: hitting each other, laughing loudly, not listening to directions. The father of the birthday girl let me know that Nathan "was the quiet one", and didn't give an ounce of trouble or worry. He had played dodge ball, had a mini karate lesson, had pizza and cake and then got loot from a pinata. He was very happy. And I was happy.

In the last few weeks, I have been going out a little more. I have been connecting with folks I haven't seen in a while and seeing people in places I never thought I would. I am out of the loop, but am working to get back in. I see how difficult it is to bridge the gap of not seeing and interacting with friends. It's hard. It's confusing. You don't remember things about them. You feel embarrassed, like you SHOULD know and you don't. I am slowly navigating these once familiar waters, trying to remember landmarks.

Nathan and I went out into town the other day. We had a walk where we stopped at the toystore to buy a present for the birthday girl, went to the bank, stopped at a gourmet food store to say hello and then to our local coffee shop for a root beer float and a mean game of checkers. This is a HUGE step for the both of us. I was proud of him for doing each and every transition and a little proud of myself, for reaching out of my comfort zone.

Nathan will learn by watching me and as I hone my skills over again, I will have the ability to help him through his pain and awkwardness. We both have hard shells around us. His is new, mine is rebuilt. I am breaking through and helping him breech his own shell.

There are tears, and frustration, and exhaustion. There is confusion and linear thinking. But there is always love and understanding, even if I don't understand at that moment. One day during therapy, Nathan had his first meltdown there. We were there, playing a game where Nathan had to skip. He had attempted to do it once and he fell down and sobbed for 30 minutes about how horrible he was that his "brain couldn't skip". I held him, talked to him, rocked him, tried to get him to focus. His therapist said, "You're so good with him, so patient." I just am. It's not something I long for acknowledgement for. He needs me to know him, inside and out, even when I don't know MYSELF.

It reminds me of I Corinthians 13 where it says about love: "It always protects, always trusts, always hopes, always perseveres." The passage itself never made complete sense to me, but over the past few months, it has come to mean so very much. I'm not particularly of any religion, but this resonates strongly with me. I love and I need to be strong and I must have faith. I do, and I shall and I will.